[vc_row][vc_column][vc_column_text]
Tonight!  Representative Bowers to participate in Town hall sponsored by the Texas Legislative Black Caucus: 7:00 – 8:30 p.m.
A community conversation hosted by the North Texas delegation. Register here:

---
Help Rhetta Andrews Bowers
Keep Fighting for you in Austin!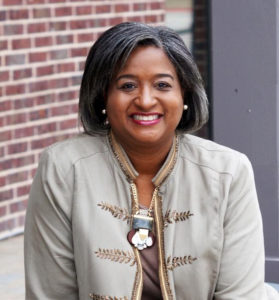 This is not a typical time and this will not be a typical election year. We need your help to re-elect Rhetta as your HD-113 Representative. Your donations and volunteer time help us continue to do our outreach in the community and during this unprecedented time. Let's keep Rhetta as our voice in Austin!
We know this is not the best time to ask for money. But with your valued time and donated dollars, every effort will be greatly appreciated and help us push through victoriously. Please click below to join become part of the team.[/vc_column_text][vc_row_inner][vc_column_inner width="1/2″][vc_btn title="Make A Donation" style="flat" shape="square" color="white" align="center" css_animation="fadeIn" link="url:https%3A%2F%2Fsecure.actblue.com%2Fdonate%2Fbowers2020%3Famount%3D20.20%26recurring%3D1%20_blank|title:Make%20a%20Donation|target:%20_blank|"][/vc_column_inner][vc_column_inner width="1/2″][vc_btn title="Volunteer" style="flat" shape="square" color="white" align="center" css_animation="fadeIn" link="url:https%3A%2F%2Fsecure.ngpvan.com%2FiNGJDr-tTUypETf2bVNjPQ2|title:Volunteer|target:%20_blank|"][/vc_column_inner][/vc_row_inner][vc_column_text]
---
The Texas Democratic Convention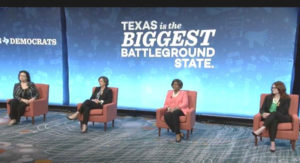 To say last week was eventful might be considered an understatement. I was happy to participate in the Texas Democratic Convention. In light of our "new normal" the event was virtual for the most part and went off without a hitch. I was honored to speak during several of the forums and it was great to reconnect with many of my friends and colleagues that I seldom see until the legislative session.
I am proud of the what was accomplished during the convention. I am also encouraged and inspired by people leading the charge in the Texas legislature to pass bills that will make a positive difference in the lives of all Texans.
---
The Death of George Floyd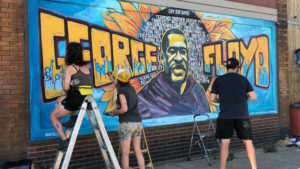 Like many of you, I watched in horror and disgust at the video of a police officer that kept his knee on Mr. Floyd's neck for close to 9 minutes. It shook me to my core hearing his pleas, telling the officer that he couldn't breathe, and calling out for his mother with his last breath. This affected me in several ways…as a mother, as a black woman, as a member of the human race, and as a Christian. I cannot imagine the anguish that he experienced before passing away, or what his family is going through. Right now, I am looking at a picture of my own family, not being able to fathom if my husband or son were no longer standing with us.
Speaking of family, I have close relatives that are members of law enforcement. I love them dearly and respect the work they do, just as I respect and admire the work of all in law enforcement. They too have been affected by the events of the past two weeks. I know how hard it can be to maintain one's professionalism and motivation to serve in the face of the amount of criticism police are receiving. Yet, for the most part, officers are still reporting to work with the intent on serving the public. I applaud their dedication and appreciate the work they do.
---
Black Lives Matter and Peaceful Protests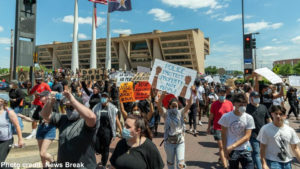 The week following George Floyd's death, people across the country began taking to the streets to protest. I want to be clear that and I do not agree with nor condone rioting as a way to make voices heard. Unfortunately, many of these protests descended into chaos and violence early on. There are varying reports of who was responsible for causing the destruction and looting, but as has been the case from the Boston Tea Party to today, riots have sometimes been the prelude to societal change.
There are those that would like to place blame on the Black Lives Matter movement for the negative actions of a small portion of those out protesting. There are also those within the Republican party, including my opponent, who want to paint BLM…and me, of being anti-police but for dismantling police departments. That cannot be further from the truth.
When people say Black Lives Matter, they are not saying no other lives matter. All lives do matter, especially and including Blue Lives. But right now, we need your help with Black Lives because Black lives are being negatively impacted. Statistically, blacks are disproportionally more negatively impacted by law enforcement and the criminal justice system than other groups. This fact does not mean that all police and departments are bad or that all judges and courtrooms are bad. It means that in a broad sense, there are disparities that cannot be ignored.
There has been a lot of talk about the call to defund the police. This is being used by some in the Republican party, including my opponent, as a political rally point saying that those of us calling for reform are advocating for the abolishment of police departments. This is again, not true. We want to work with police departments and other law enforcement agencies to reform policies, reallocate funds from militarizing officers to additional training in regard to de-escalation tactics and eliminating racial bias, and provide a mechanism for accountability when there is a question about the use of force or racial profiling.
I will be meeting with the police chiefs from each department included within HD 113 to discuss recent events and what policy changes they are making in light of concerns from the community. Each of them are eager to have these discussions as well as additional listening forums where citizens can express their concerns and hear directly from the chiefs on their plans as we move forward together for a better future for all.
---
I work for YOU. I am YOUR voice. You matter to me.
---
Please join me for a Community Conversation – June 18, 2020
Hosted by Cassandra Cox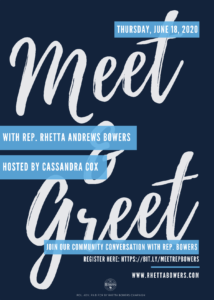 I am looking forward to another opportunity to meet with supporters and residents of HD 113. This is part of my continued efforts to listen to your concerns and hopes for the future as we navigate the "new normal" as a result of COVID-19, as well as the societal change occurring across our country.
Register here to join the conversation: http://bit.ly/MeetRepBowers
---
Gov. Abbott Announces Expanded Testing
in Underserved Communities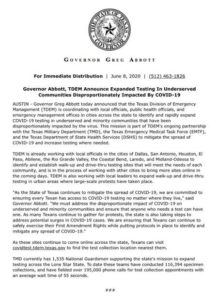 Early this past week, Gov. Abbott announced that the Texas Division of Emergency Management (TDEM) would be coordinating with local public health officials and emergency management offices across the state to identify and rapidly expand COVID-19 testing in underserved and minority communities that have been disproportionally impacted by the virus.
TDEM is already working with local officials in several Texas cities, including Dallas, to identify and establish walk-up and drive-through testing sites that will meet the needs of each community. It is also in the process of expanding to other cities to bring more sites online.
I applaud this move by the Governor. This shows that he paid attention to the letters I wrote, which garnered bi-partisan support. While I am anxious to see the Texas economy rebound, we can't ignore the facts that show that we have yet to reach a peak in virus infections.
As the North Texas area continues to see a rise in COVID-19 cases and deaths, I will work with my colleagues on both sides of the aisle and with the Governor in the hopes that our future reopening decisions are based on factual data and sound advice from medical professionals.
---
Endorsed by the National Democratic Redistricting Committee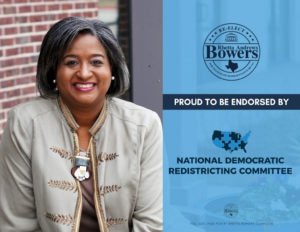 I am honored to officially have the endorsement of the National Democratic Redistricting Committee. I pledge to support fair redistricting and fight for fair maps. #txlege[/vc_column_text][/vc_column][/vc_row]